BERNINA EXPRESS PRIVATE GUIDED TOUR
PLUS A WINE EXPERIENCE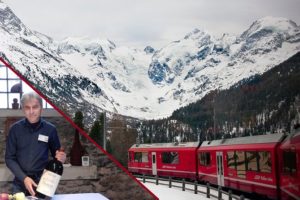 Tour duration: 1 day (approx. 9 hours)
Private van/minibus + train
Guide in English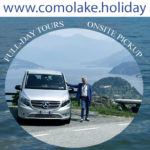 Itinerary: Start from Milan (h 7:45 am), Como (h 8 am), Varenna or Menaggio (h 8:50) or any other town along the route. Pickup and dropoff at your hotel or apartment.
If staying in Bellagio get the h 8:35 car ferry boat to Varenna (arrives at h 8:50 am). Meeting point: ferry pier.
We drive to Tirano (about 2 hours) with views and experiences along the famous Valtellina valley with its vineyards, apples cultivations and food specialties.
Guided visit to a local winery if requested.
In Tirano you take the famous Red Train of Bernina (Bernina Express).
Unesco World Heritage, this train runs along the highest mountain train route in Europe; a spectacular journey of 2 hours from Tirano to St. Moritz via the Bernina Pass, a breath-taking journey in the Alps, in Canton Grisons, along glaciar lakes and close to the Bernina and Morterasch glaciers.
The Guide reaches you again in Sankt Moritz for a guided tour of the town.
Sankt Moritz, the famous resort of winter and summer tourism. Stunning views over the lakes (frozen in winter) and the Alps, luxury hotels, exclusive shopping streets etc.
Afternoon: drive back through the Maloja Pass and possibly a stop on the way to the Piuro waterfalls.
IMPORTANT:
.  Tickets will be bought at Tirano station. DO NOT buy them in advance because we don't know which train we will catch (it depends on what time we arrive in Tirano). We NEVER book the tickets in advance.
Cost: about Euro 35 per person (second class), about Euro 70 per person (first class), at your choice. If offered by the Guide they will be second class tickets.
. Not all trains have the panoramic carriages; these ones need only second class tickets. They are always overcrowded and you cannot open the windows to get good pictures. Anyway you will decide which solution you prefer once we arrive at the station. I will accompany you to the ticket office and on the train to make sure you have the best seats.
. Make sure you have your passports valid for border control (Switzerland is not part of EU).
. We suggest comfortable clothes and shoes according to season and weather forecast (see here).
. No need to take Swiss Francs, Euros and credit cards accepted everywhere.

Lunch: time for lunch on your own and shopping in Sankt Moritz; restaurants with typical local Swiss specialties will be suggested.
Alternatively (BEST SOLUTION) you can bring your own food or you will BUY SOME sandwiches or snacks in Tirano train station and consume it along the train trip (maybe together with some local wine 🙂 ; this way we will have more time to visit Sankt Moritz.

Extra costs:  lunch,  train tickets
See a short video HERE
Book your tour or just ask for more information:
Please write to:   info@comolake.holiday
or Call, iMessage, SMS, Viber to:  +39 338.200.46.70
or WhatsUp me:  click here
Messenger:  m.me/LakeComoGuidedTours 
For a quotation of the day trip please clearly indicate which date/s you are interested in, number of people and where exactly you will be staying.
Reviews:
TRIPADVISOR   FACEBOOK   GOOGLE
GALLERY:
Go back to: